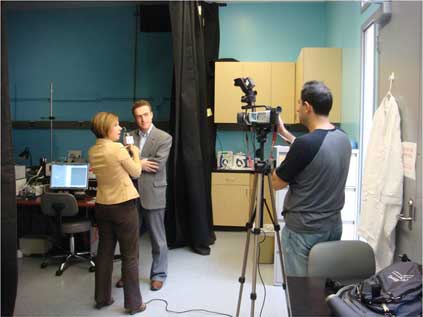 'Cepden' anında kan tahlili!
Cep telefonuna öyle bir mekanizma ekledi ki, artık hastaneye gitmeye gerek kalmayacak…
Kaliforniya
Üniversitesi'nde görevli 31 yaşındaki Prof. Dr. Aydoğan Özcan'ın
buluşuyla cep telefonuna takılan 10 dolarlık bir mekanizma, tahlili
yapıp sonucu hastaneye mesajla yolluyor.
Genç yaşına rağmen ABD'nin
en çok tanınan bilimadamlarından biri olan ve Kaliforniya Üniversitesi
(UCLA) Elektrik Mühendisliği Bölümü'nde görev yapan Prof. Aydoğan Özcan
(31), tıpta devrim yaratacak bir icada imza attı. Özcan'ın ekibiyle
birlikte geliştirdiği cihaz, sıradan bir cep telefonunu hassas tahliler
yapan bir mikroskoba çeviriyor. Böylece her yere taşınması mümkün
olmayan, pahalı aletlerle, uzun sürede yapılan kan testleri yerine
hastalıklar herhangi bir yerde, kısa sürede ve ucuz bir şekilde teşhis
edilebiliyor. Sistem, cep telefonunun kamerası üzerine takılan özel bir
aparatla çalışıyor. Filtre edilen bir ışık kaynağı bulunan bu aparat,
telefonun kamerası üzerine yerleştirilen kan örneğinde yer alan
yaklaşık 50-100 bin hücrenin aynı anda ve birkaç saniye içinde
görüntülenmesini sağlıyor. Telefona yüklenen özel bir yazılım da hücrelerdeki değişimi algılayarak, sıtma, verem. tüberküloz, anemi ve AIDS
gibi hastalıkları teşhis edebiliyor. Bu sonuçlar istenilen sağlık
kurumuna da mesaj olarak gönderilebiliyor. Bu cihazın özellikle Afrika gibi laboratuvarların az ancak cep telefonu kullanımının yoğun olduğu bölgelerdeki hastalıklara karşı etkili olacağı belirtiliyor. İcadıyla dün ABD'nin en saygın gazetesi New York Times'a da konu olan Özcan cihazın satışı için Microskia adlı bir şirket kurdu. Cihazın fiyatı ise sadece 10 dolar.
Aydogan Ozcan, 30
UCLA
Inexpensive chips and sophisticated software could make microscope lenses obsolete


Expensive,
bulky lenses have been the basis of imaging technology for centuries.
Now, says Aydogan Ozcan, an assistant professor of electrical
engineering, "it's time to change our thinking." By writing
sophisticated image-processing software and taking advantage of the
inexpensive light sensors now ubiquitous in cell phones, he may have
made lenses obsolete. The lensless imaging devices that Ozcan has built
achieve roughly the same resolution as standard bench-top microscopes
(about a micrometer), so they can be used to count, identify, and even
image living cells.
He's made prototypes mounted in cell phones to demonstrate the
technology and has started a company called Microskia to develop it.
The first products are likely to be simple microscopes that plug into a
cell phone or laptop through a USB cord and display the magnified
images on their screens; the first uses will probably be in remote
medical centers, to diagnose anemia, cancer, and infectious diseases
such as malaria. According to Ozcan, though, his prototypes are
actually good enough to replace the large, expensive cell counters used
in U.S. hospitals. –Katherine Bourzac
1. Light Detector: A microscope slide holding a
sample such as blood can be mounted here, over the phone's camera,
which contains a light-detecting chip. The phone's processor runs the
imaging software.

2. Light Source: The black plastic tube
contains light filters and a light-emitting diode powered by the
phone's batteries, but no lenses. Light shines from the tube through a
sample and onto the camera's imaging chip.

3. Add-on Imaging: The imaging system can be
removed for a more convenient cell-phone conversation or replaced with
a light source better suited to a particular imaging application.

Credit: Christopher Harting
http://www.milliyet.com.tr/Yasam/SonDakika.aspx?aType=SonDakika&KategoriID=15&ArticleID=1159802&Date=09.11.2009&b=Cepden
http://www.technologyreview.com/TR35/Profile.aspx?Cand=T&TRID=808